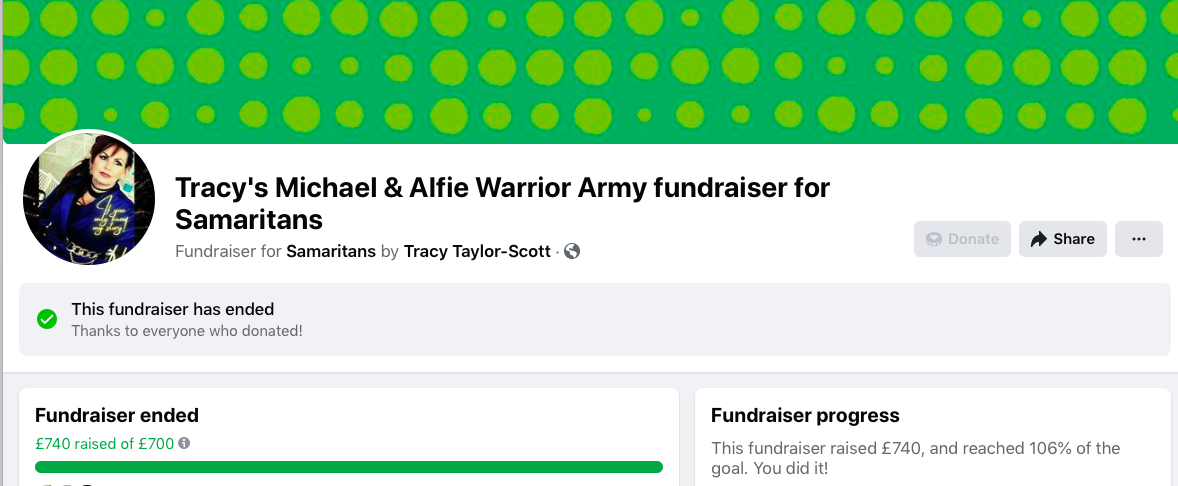 Today I am so incredibly proud to announce that Myself and my lovely Tracy's Michael and Alfie Warrior Army fundraising support fan group along with lots of you lovely people too

......... Smashed the Fundraiser for The Samaritans..... Wow!!
Thank you so very much... your generosity is so incredibly appreciated


WE have raised a considerable sum for Samaritans through the sheer generosity of everyone....... and along with the subscription fee from my lovely group we
have raised £890!

Wow I am totally blown away to have raised this amount in less then a month......
What a fabulous start to our amazing fan group..... brought together for the love of Michael Ball OBE & Alfie Boe

and sharing in the love of giving, support and kindness and fun thrown in

We are so very grateful for all your wonderful support throughout this wonderful fundraiser......
Plus 2 lucky people will be winning a ticket to the Nspcc Childline Christmas Show at Cadagan Hall starring
Michael Ball OBE

1 vip ticket and 1 close up gallery ticket up for grabs...... Good Luck


Plus I have already given a way as a random act of kindness for one lucky winner A fabulous Meet and greet and ticket to a show next year with
Alfie Boe
making a lucky persons dreams come true xx
Watch out for the fabulous giveaway coming soon xx



We would love to have you as part of our wonderful Warriors for Good.......
Some of our very recent fundraisers..... for Samaritans.... Shooting stars Children's hospices and Children in need, all these funds have been raised in a very short time....... we worked very hard to raise these funds....and with generosity of lovely people.